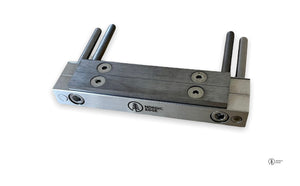 Nordic Edge
Carbide Faced File Guide, Stainless Steel, 70 mm
Sale price Price $139.00 Regular price
Carbide Faced File Guide, Stainless Steel, 70 mm (2.75")

 Looking for a faster way to get perfectly even bevels when grinding blades?
Want perfectly fitting stick-tang blades into the guard or bolster? 
3.9 mm thick carbides screwed on, HRC 78
Non-magnetic, steel dust does not stick to it
Stainless steel, will not rust from being dunked in water
Bolts are recessed into the  body for easy access on flat platen
Accepts up to 70 mm wide blades (2.75"), up to 40 mm thick blades and guards (1.6")
Guide pins are hardened steel for an even more sturdy construction and no chance of jamming
How to use the knife makers file guide:
The file guide is used when grinding bevels on a knife blade, by clamping the blade between the jaws, enabling you to precision file both sides of the blade dead even using files or a grinder. The benefits are blade bevels starting perfectly even, and stick tang shoulders being dead square and even for perfect bolster fit.
When fitting a stick tang guard or bolster, it is critical that the slot sides are straight and parallell. By clamping the guard in the file vice, the carbide creates a hard border for the file, ensuring a tight, crips guard fit.
The file guide is in solid stainless steel, and will not rust when dunked in water during grinding to keep the blade cool. Steel dust will not stick to the non-magnetic steel.

The face is protected by carbide strips, which only diamond or other exceptionally hard tools will scratch. These are 78 HRC and very hard but: NOTICE ceramic belts can and will damage carbide. This tools is for use with hand tools, or aluminum oxide belts if using a grinder. The carbides are 3.9 mm thick and can be replaced if required.

The carbide strips are recessed slightly down into the stainless steel for added protection. This way the strips will not be knocked off or out of alignment. This also ensures there is less pressure on the carbide strip when clamping in a blade as they back onto a shoulder of steel. 

The file guide accepts up to 70 mm wide blades (2.75"), and up to 40 mm (1.6") thick blades and guards.
This  is the new "v4"  model released in October 2018 but from Feb 2019 it comes with allen keys included (metric) and the guide pins are hardened steel and no longer tungsten carbide.
Dimensions are 100 mm x 15 mm x 65 mm in size (4" x 0.38 x 2.56"), made from solid 12 x 12 mm (0.5") stainless steel and accepts up to a 40 mm (1.6") thick blade/guide after feedback from the Australian knife maker community, for allowing bigger guards to be filed.

The file guide has the CreativeMan.com.au logo laser etched on one side,being designed by Creative Man in Sydney, Australia and custom engineered to our specifications.
Check out CreativeMan.com.au for more tools and supplies for blade makers. This site Creative-Man.com is for our US based knife maker customers.